Avantasia - The Flying Opera: Around the World in Twenty Days (2011) BDRip 720p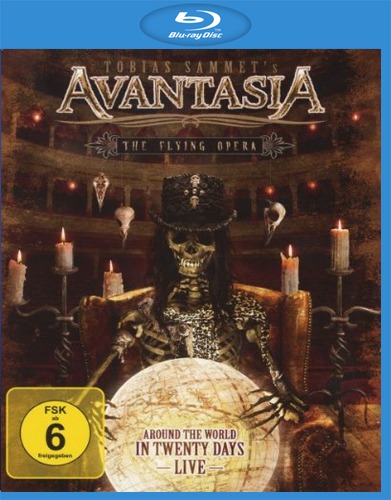 Screenshots:
Setlist:
01. Twisted Mind
02. The Scarecrow
03. Another Angel Down
04. Prelude / Reach Out For The Light
05. Inside
06. No Return
07. The Story Ain't Over
08. Shelter From The Rain
09. Lost In Space
10. I Don't Believe In Your Love
11. Avantasia
12. Serpents In Paradise
13. Promised Land
14. The Toy Master
15. Farewell
16. Sign Of The Cross / The Seven Angels (Medley)
аbout:
• Two-part release, featuring a live performance from the 'metal opera' collective, 'Avantasia', and a documentary chronicling the events of the tour. The superband, which was formed by EDGUY frontman Tobias Sammet, includes such members as Jorn Lande (Masterplan), Andre Matos (ex-Angra) and Kai Hansen (ex-Helloween). The live footage was recorded at Wacken Open Air Festival (Germany) and Masters of Rock Festival (Czech Republic), and includes such tracks as 'Twisted Mind', 'Lost in Space' and Serpents in Paradise'.
• Avantasia was an all-star side project headed by Tobias Sammet, lead singer of the prog-tinged German power metal band Edguy. While recording a guest appearance from Blind Guardian singer Hansi Kürsch with his regular band, Sammet conceived of a massive-scale rock opera featuring the cream of the current power metal scene. He spent a year composing the material, named the "band" Avantasia, and recruited a variety of vocalists to tell his story: Gamma Ray's Kai Hansen, Stratovarius' Timo Tolkki, Virgin Steele's David DeFeis, Angra's Andre Matos, Warrior's Rob Rock, and Within Temptation's Sharon den Adel. For the backing band, Sammet gathered guitarists Jens Ludwig (Edguy) and Henjo Richter (Gamma Ray), bassist Markus Grosskopf (Helloween), and drummer Alex Holzwarth (Rhapsody). The album, The Metal Opera, was filled with tried-and-true fantasy themes and anthemic, progressive pomp-metal; it was released by Century Media in the summer of 2001 and was followed by the sequel, The Metal Opera, Vol. 2, the following year in 2002. The band returned years later with its Scarecrow Saga, a three-album piece consisting of The Scarecrow, released in 2008, and The Wicked Symphony and Angel of Babylon, both released in 2010. The Flying Opera, a live set from the Scarecrow tours, was released in 2011, and the following year they unleashed The Mystery of Time, their biggest production yet, which featured the Deutsches Filmorchester Babelsberg. --Artist Biography by Steve Huey
Info:
Quality:
BDRip | 720p
Format:
MKV | 7050kbps
Length:
02:02:00 | 7.87Gb
Video:
H.264 | 1280x720 | 16:9 | 24.000fps
Audio 1:
PCM | 1536kbps | 48kHz | 2 channels: L R
Audio 2:
AC3 | 640kbps | 48kHz | 6 channels: Front: L C R, Surround: L R, LFE
Language:
English
Download:


Start by creating your free account
here
- registration is required to get acces
pass: galexandersHD