The Rolling Stones - Live in Leeds
The Rolling Stones - Live in Leeds 1982 (2015) BDRip 720p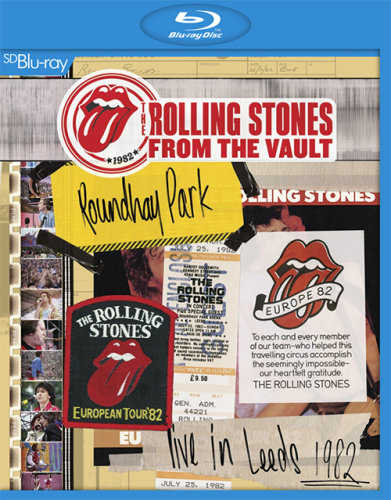 Screenshots: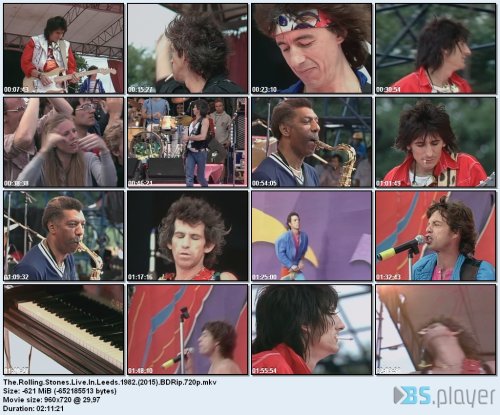 Setlist:
01. Intro: Take The A-Train
02. Under My Thumb
03. When The Whip Comes Down
04. Let's Spend The Night Together
05. Shattered
06. Neighbours
07. Black Limousine
08. Just My Imagination
09. Twenty Flight Rock
10. Going To A Go Go
11. Let Me Go
12. Time Is On My Side
13. Beast Of Burden
14. You Can't Always Get What You Want
15. Little T & A
16. Angie
17. Tumbling Dice
18. She's So Cold
19. Hang Fire
20. Miss You
21. Honky Tonk Women
22. Brown Sugar
23. Start Me Up
24. Jumpin' Jack Flash
25. (I Can't Get No) Satisfaction
about:
Continuing the very successful From The Vault series of classic, previously unreleased Rolling Stones live shows, Live In Leeds 1982 is taken from the band's performance at Roundhay Park in Leeds, England on 25 July 1982. This show was the last concert on their 1982 European Tour, in support of 1981's acclaimed Tattoo You album, which would be their last live tour for seven years. About half of the Tattoo You album is included in the set including the hit single 'Start Me Up'. This would be the last Rolling Stones show to feature Ian Stewart on piano. The footage has now been carefully restored and the sound has been newly mixed by Bob Clearmountain for this first official release of the show.
Info:
Source:
Eagle Rock Entertainment
Quality:
BDRip | 720p
Format:
MKV | 5000kbps
Length:
02:11:00 | 7.39Gb
Video:
H.264 | 960x720 | 4:3 | 29.970fps
Audio 1:
DTS | 1510kbps | 48kHz | 6 channels: Front: L C R, Surround: L R, LFE
Audio 2:
PCM | 1510kbps | 48kHz | 2 channels: L R
Language:
English
Download:


This album(s) is currently available for download only with a Premium account. To get a premium account, click
here
pass: galexandersHD
or buy this album(s) in MP3 format CODE:4392543 directly with Bitcoin without register