Katy Perry - The Prismatic World Tour
Katy Perry - The Prismatic World Tour (2015) Blu-Ray 1080i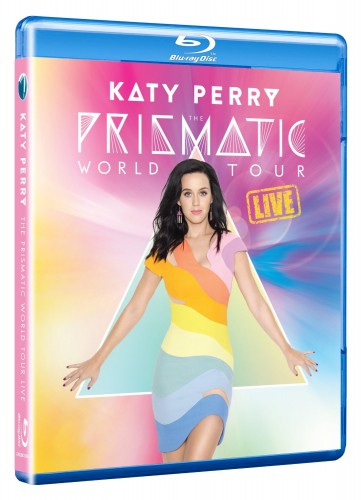 Screenshots:
Setlist:
Prismatic
01. Roar
02. Part of Me
03. Wide Awake
04. This Moment / Love Me
Egyptian
05. Dark Horse
06. E.T.
07. Legendary Lovers
08. I Kissed a Girl
CatOure
09. Hot N Cold
10. International Smile (With "Vogue" snippet by Madonna)
Acoustic
11. By the Grace of God
12. The One That Got Away / Thinking of You
13. Unconditionally
Throw Back
14. Walking on Air
15. It Takes Two
16. This Is How We Do / Last Friday Night (T.G.I.F.)
Hyper Neon
17. Teenage Dream
18. California Gurls
19. Birthday
Encore:
20. Firework
Bonus:
Behind the scenes [00:10:02]
Stage build time-lapse [00:03:24]
Crew tidbits [00:19:01]
about:
The Prismatic World Tour Live is a sensory explosion of eye-popping theatrics, daring acrobatics and of course, all the hits. This concert film is a visually stunning production that captures Katy's fun-loving personality and artistic vision.Spanning the entire length of the arena floor, the innovative Prismatic tour stage allows Katy to share intimate moments with her fans in a unique shared connection with the music.Directed for the stage in seven thematic acts, this unmissable spectacle features hit after hit after hit, and The Prismatic World Tour Livetruly captures the excitement, color and energy of the live Katy Perry extravaganza.
Info:
Quality:
Blu-Ray | 1080i
Format:
M2TS | 29.9Mbps
Length:
01:56:04 + 00:32:27 | 44.17Gb
Video:
H.264 | 1920x1080i | 16:9 | 29.970fps
Audio 1:
LPCM | 4608kbps | 96kHz | 2 channels: L R
Audio 2:
DTS-HD | 7794kbps | 96kHz | 6 channels: Front: L C R, Surround: L R, LFE
Language:
English
Download:

This album(s) is currently available for download only with a Premium account. To get a premium account, click
here
pass: galexandersHD
or buy this album(s) in MP3 format CODE:4392461 directly with Bitcoin without register