OMD - Architecture & Morality & More
OMD - Architecture & Morality & More (2013) BDRip 720p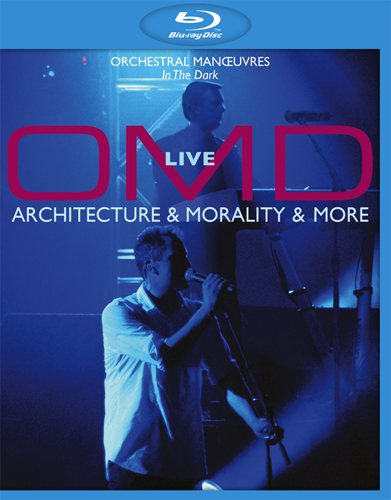 Screenshots: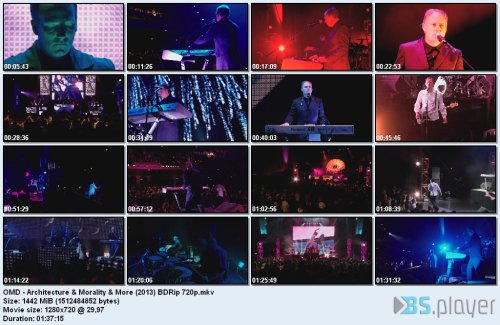 Setlist:
01. Architecture & Morality
02. Sealand
03. The New Stone Age
04. Georgia
05. She's Leaving
06. Souvenir
07. Joan Of Arc
08. Joan Of Arc (Maid Of Orleans)
09. The Beginning And The End
10. Messages
11. Tesla Girls
12. Forever (Live And Die)
13. If You Leave
14. Pandora's Box
15. Talking Loud & Clear
16. So In Love
17. Locomotion
18. Sailing On The
Seven Seas
19. Enola Gay
20. Walking On The Milky Way
21. Electricity
22. Romance Of The Telescope
about:
Architecture & Morality, originally released in 1981, is considered by many to be the pinnacle of Orchestral Manoeuvres In The Dark's career. It spawned three Top 5 UK singles and the album itself peaked at No.3. In 2007 Andy McCluskey and Paul Humphreys reunited with Malcolm Holmes and Martin Cooper as OMD for an extensive tour of Europe. For the early part of this tour, including this concert filmed in high definition at London's Hammersmith Apollo in May, the concert was split into two halves. The first part of the evening was a complete performance of the Architecture & Morality album, while the second half was a greatest hits set covering the rest of the band's illustrious career. The concerts were spectacularly presented with films specially created to compliment the songs running on huge screens around the stage. This is OMD at their best.
Recorded at the Hammersmith Apollo, London on Saturday 19 May 2007
Info:
Source:
Eagle Rock Entertainment
Quality:
BDRip | 720p
Format:
MKV | 5000kbps
Length:
01:37:00 | 5.4Gb
Video:
H.264 | 1280x720 | 16:9 | 29.970fps
Audio 1:
DTS | 1510kbps | 48kHz | 6 channels: Front: L C R, Surround: L R, LFE
Audio 2:
PCM | 1510kbps | 48kHz | 2 channels: L R
Language:
English
Download:


This album(s) is currently available for download only with a Premium account. To get a premium account, click
here
pass: galexandersHD
or buy this album(s) in MP3 format CODE:38949 directly with Bitcoin without register