Release Info: Various Artists - Bossa Nova: Sua História, Sua Gente (1975)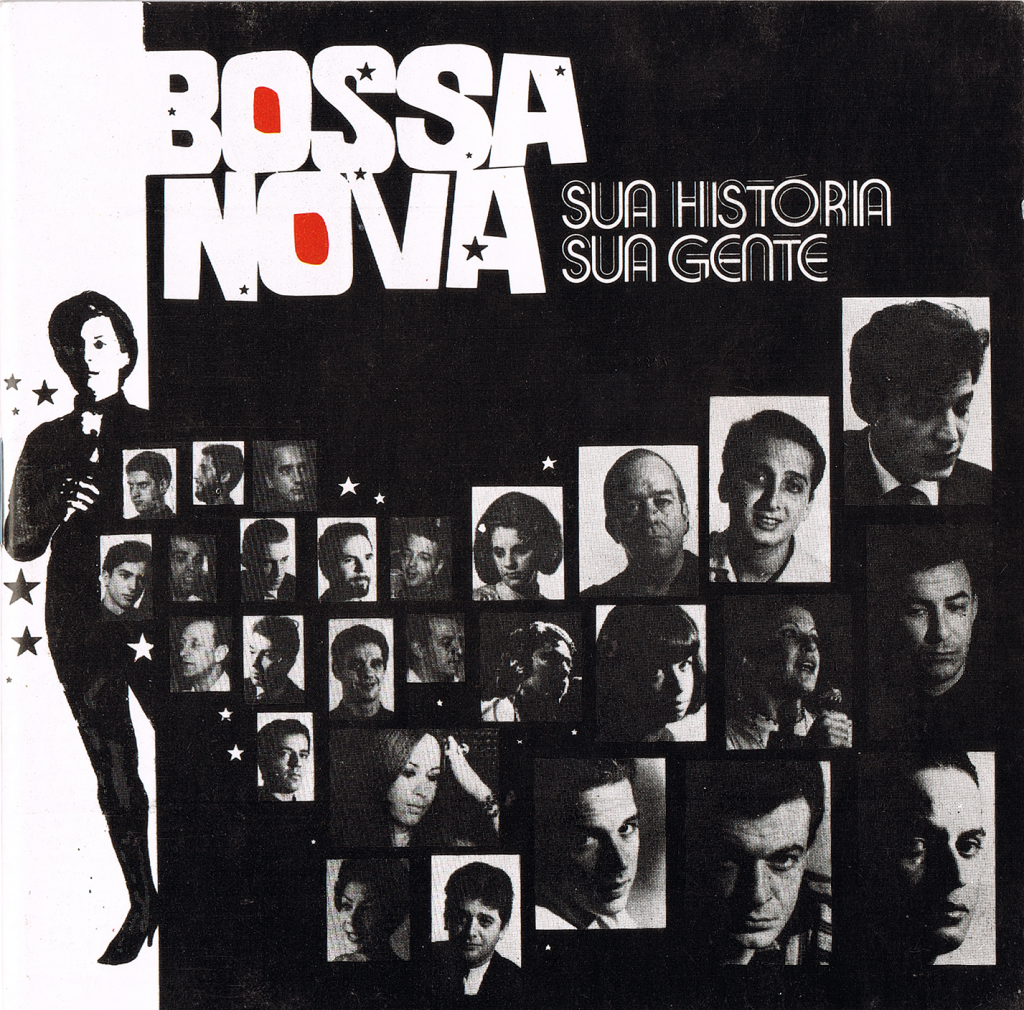 Bossa Nova Sua Historia Sua Gente
Philips / Polygram
Original release 1975
CD reissue, unknown date


DISC 1

01 - Sofrer é da Vida - Mario Reis
02 - Você - Dick Farney e Norma Bengel
03 - Nós e o Mar - Doris Monteiro
04 - Só Danço Samba - Donato e Seu Trio
05 - Mocinho Bonito - Billy Blanco
06 - Samba do Avião - Cariocas
07 - Rio - Lucio Alves
08 - As Praias Desertas - Elizete Cardoso
09 - Último Canto - Agostinho dos Santos
10 - Influência do Jazz - Leny Andrade
11 - Minha Saudade - Tamba Trio
12 - Por Toda Minha Vida - Lenita Bruno
13 - Tristeza de Nós Dois - Luiz Eca
14 - Tem Mais Samba - Quarteto em Cy
15 - Boranda - Edu Lobo & Tamba Trio
16 - Berimbau - Baden Powell
17 - The Girl From Ipanema - Astrud Gilberto
18 - Carta ao Tom 74 - Vinícius e Toquinho

DISC 2

01 - Samba da Pergunta - João Gilberto
02 - Samba de Verão - Roberto Menescal e Seu Conjunto
03 - Demais - Maysa
04 - Folha de Papel - Sergio Ricardo
05 - Chora Tua Tristeza - Conj Oscar Castro Neves
06 - Ao Amigo Tom - Claudette Soares
07 - Você e Eu - Sylvia Telles
08 - Coisa Mais Linda - Carlos Lyra
09 - Ela é Carioca - Sergio Mendes e Bossa Trio
10 - Maria Bonita - Nara Leão
11 - Upa Neguinho - Lennie Dale
12 - Que Maravilha - Zimbo Trio
13 - De Palavra em Palavra - Mpb4
14 - Chuva - Os Gatos
15 - Tema do Boneca de Palha - Rosinha de Valença
16 - Olha Maria - Chico Buarque
17 - So Tinha de Ser com Você - Elis & Tom
18 - Ana Luiza - Tom Jobim


There
are a lot of bossa nova compilations out there, and a lot of them are
pretty shitty. This one is a good enough listen, though not nearly as
Earth-shaking as some of the reviews I've seen on the internet might indicate. In fact, T. "Strokin"Jurek must have a different record than the one I
have - not only does it not feature any tracks by Jorge Ben as he claims (rather, it has a
medley of Ben songs performed by Zimbo Trio, however, which is a big
difference), but it also does NOT contain "credits and complete song
details" in any way. What my copy has is an essay-style account of
bossa nova with information on key composers, artists, producers and
arrangers. Not song credits. Maybe Jurek has a different edition, or
maybe he doesn't read or speak Portuguese? If so he should probably
stop being paid to write reviews of anthological Brazilian releases.
What Jurek also seems ignorant of is that astute fans of this
music don't gripe about compilations like this because they are fond of
"nit picking." Usually they are motivated for a love of music that
exceeds the profit motive of the companies that put it out. A
case in point can usually be found in any compilation claiming to
represent an entire musical movement, such as this one. Even in the 1960s, the Brazilian
recording industry was consolidated in very few hands, with each label
being pretty equally possessive of its own artists and covetous of its
neighbors. As you will see, that has resulted in some misleading attempts to anthologize.



This collection was originally released as a
triple-LP box with an oversized booklet. I own both the vinyl and CD
and for once we are at least lucky to have a CD booklet that replicates
the info in the original vinyl down to the letter. Unfortunately that
info is still kind of vague on the sort of info fans want, such as the
provenance of the tracks - the dates, the records they came from, who may have played on them - in fact just the sort of info that Jurek claims comes with this set but does not. It's
my feeling this is a pretty deliberate choice. Philips didn't even
exist as a discrete record label during the heydey of bossa nova, but
rather took over what had been CBD (Companhia Brasileira dos Discos) and
eventually acquired the Elenco label and their catalog in the early
70s. So this compilation is missing all kinds of crucial stuff released
by the EMI-Odeon and RGE labels, for example. To make things more
confusing, some of the artists associated with those labels appear here
on selections recorded after they had signed contracts with Philips
(João Gilberto, Chico Buarque, Zimbo Trio). They are great songs, but
these artists' canonical contributions to bossa nova are found on their
first few records, and not the ones recorded for Phillips.



What this
compilation does do really well is fill in gaps in the fan's
knowledge of artists either within bossa nova or who were seminal and
influential on its formation (even if some of them - like Dick Farney -
are once again featured in post-1970 contexts). A lot of material, however, isn't actually bossa nova but samba canção, a genre that provided a lot of the roots, repertoire, and inspiration for bossa nova but which is distinct enough that its progenitors were initially scandalized by the deviations in rhythms and intervals that the kids brought to the block. Although it's not clear
how much is intentional and how much is a product of the contractual
shenanigans on who has rights to what songs, this record ends up being a cool
compilation that manages to
avoid repeating the cliched representations of bossa nova (with the exception fo Girl From Ipanema), even at the
expense of omitting most of its key compositions and recordings.
Extra points for including tracks from Os Cariocas, Carlos Lyra,
Agostinho dos Santos, US expatriat Lennie Dale, Silvia Telles, and Billy Blanco.