Release Info: Richie Havens - Stonehenge (1970)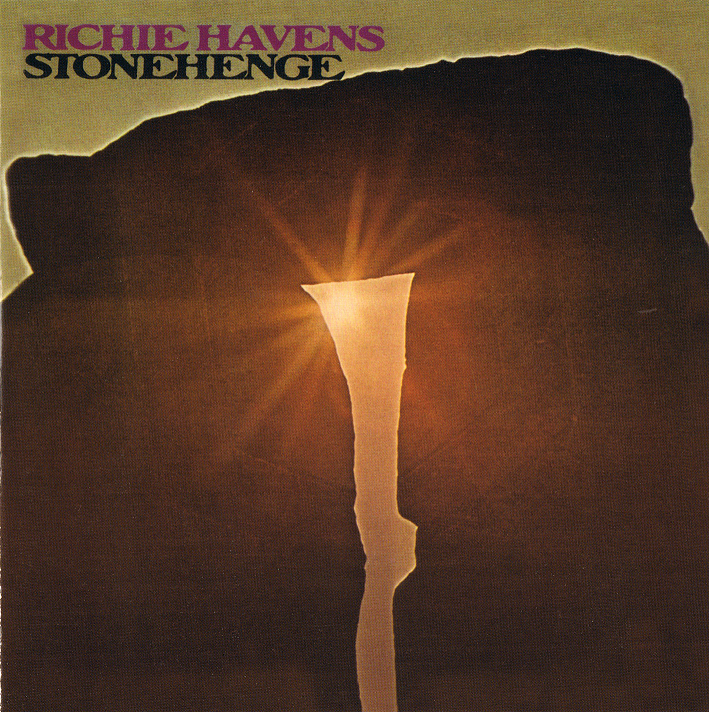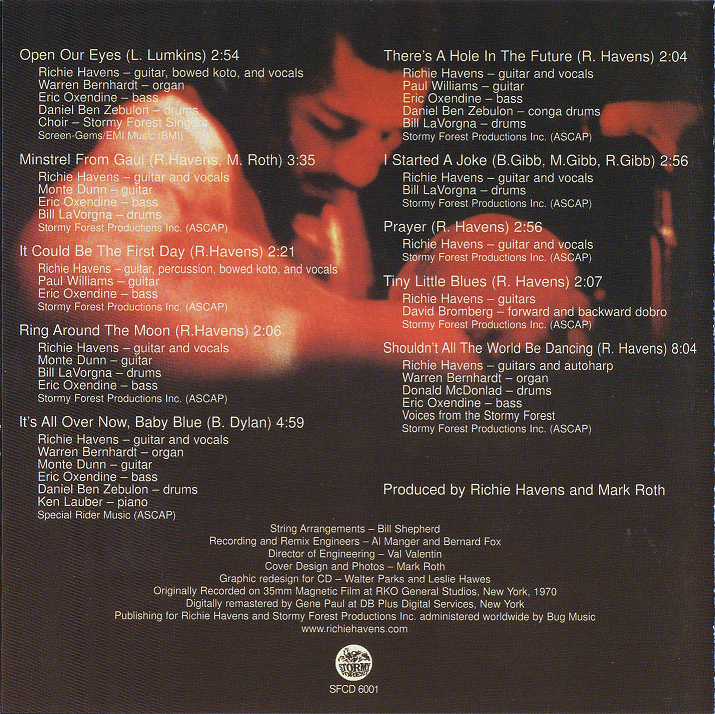 Richie Havens

STONEHENGE

Released 1970, Stormy Forest



Open Your Eyes 2:48

Minstrel 3:28

It Could Be The First Day 2:15

Ring Around The Moon 2:05

Baby Blue 4:50

There's A Hole In The Future 1:59

I Started A Joke 2:51

Prayer 2:54

Tiny Little Blues 1:57

Shouldn't All The World Be Dancing 7:58



Richie Havens - guitar, autoharp, sitar, koto, vocals

Warren Bernhardt - organ

Daniel Ben Zebulon - drums, conga

Monte Dunn - guitar

Donny Gerrard - bass

Ken Lauber - piano

Bill Lavorgna - drums

Eric Oxendine - bass

Bill Shepherd Singers - string arrangements

Paul "Dino" Williams - guitar





"To all the temples built by man of stone and other transient material: I wish to live to see them all crumble into truth and piles of light!

And to the temple where divinity resides, even with all your newcomers: How quiet!

To divinity: (the socio-physio-spiritus-harmonious-concludus) It is a pleasure to know you!



And least and last, to the body, the substance, the hull, the distinguished main portion, the vessel of molecular pilots and passengers, and its power receiving, transmitting, perceiving, transcending equipment: The truth temple, I've seen your face, the earth and its inhabitants, a magnanimous collection. Concentrate on your heartbeats, regulate your breathing even so that flowers may live.

- Richard P. Havens "



<!--[if gte mso 9]>





<!--[if gte mso 9]>

Normal
0


21


false
false
false

PT-BR
ZH-CN
X-NONE
























<!--[if gte mso 9]>











































































































































<!--[if gte mso 10]>

/* Style Definitions */
table.MsoNormalTable
{mso-style-name:"Table Normal";
mso-tstyle-rowband-size:0;
mso-tstyle-colband-size:0;
mso-style-noshow:yes;
mso-style-priority:99;
mso-style-parent:"";
mso-padding-alt:0in 5.4pt 0in 5.4pt;
mso-para-margin-top:0in;
mso-para-margin-right:0in;
mso-para-margin-bottom:10.0pt;
mso-para-margin-left:0in;
line-height:115%;
mso-pagination:widow-orphan;
font-size:11.0pt;
font-family:"Calibri","sans-serif";
mso-ascii-font-family:Calibri;
mso-ascii-theme-font:minor-latin;
mso-hansi-font-family:Calibri;
mso-hansi-theme-font:minor-latin;
mso-fareast-language:EN-US;}







On Monday
April 22, Richie Havens passed away.

I
saw Richie play a few times in small clubs and was lucky enough to have talked with him briefly one such occasion. He was always approachable and interested in
talking to his fans after a performance.
Here was this man who was a living legend of his generation, with an
instantly recognizable style and always-evocative musical presence, and he
seemed genuinely just grateful that people came to hear him sing.

In a way it seemed this fact was all that
mattered – that people were still listening.





Note that I did not say "grateful that people still came to hear him sing" because
this had nothing to do with his age – he was well into his 60s the last time I saw him perform – or out
of some pop-singer's vanity to feel relevant.
It mattered that people were still listening because he still believed
in the urgency of his message as much as he did when he started out.

His message
and his music had not changed much in a half century of recording and
performing, and he put them both across to us in a voice that never
wavered.

He had a wise voice, ageless
and now quite literally eternal.

You can listen to his singing on "Mixed Bag" (1967) and follow it with "Wishing Well" (2002) and be forgiven for thinking they were recorded around the same time.




He will forever be associated with the opening scenes of the Woodstock film that captured him improvising the tune "Freedom" at the end of a nearly three-hour set, killing time for the rock bands to get their gear to the stage. And he continued to represent the best utopian qualities of that historic moment soon to be overshadowed by the excesses of the era. As most of his contemporaries succumbed to various combinations of self-destruction, greed, madness or mediocrity, he continued waging peace for the rest of his career. He became the most refreshing of anachronisms. A person who believed - really believed - that music could change the world one person at a time. A figure who seemed incapable of cynicism in his music or his life. Hell, he could even make promotional work for the cotton industry sound noble.











You can't go wrong with any of Richie's first ten or so albums, and Stonehenge is lodged right in between two of my favorites - the double album "1983" and "Alarm Clock." The latter LP was his highest charting success, largely on the heals of an inspired version of 'Hear Comes The Sun.' While Richie was a fantastic songwriter he sort of became known for his covers of other peoples' hits and giving them his personal stamp. Usually songs associated with sixties counterculture folk/rock icons like Donovan, The Beatles, and Dylan. Here he tackles "It's All Over Now Baby Blue," a song so good it is probably impossible to do a bad version of it, and the Bee Gee's "I Started A Joke," which also happens to be one of my favorite tunes (as I mentioned when blogging about Ronnie Von's Portuguese adaptation of it over here). The album opens with a tune by gospel artist Leon Lumkins, "Open Our Eyes," also recorded by Funkadelic and which would become the title track of an Earth, Wind and Fire album a few years later. Havens version is better than both and more moving, as well as truer to the original. It's a lovely prayer to begin a recording.




I won't give a song-by-song account because if you have never sat down and listened to it then you should just enjoy your own subjective impressions. "Minstrel From Gaul" is a recognized classic and a song he never stopped playing live. He shifts from the tender "It Could Be The First Day" to the angular "Ring Around The Moon" seamlessly. The song "Prayer" brings us back to gospel territory and reminds us of Richie's roots singing in vocal groups and doo-wop. It's a Havens composition and the last one on the album to feature real vocals; it also seems that Richie may have overdubbed all the harmonies himself, if the album jacket credits are trustworthy. The instrumentation throughout the LP is changed up constantly, presenting new textures, and the arrangements are all excellent. Also, unlike his first couple of LPs - and I mention this only because I was just listening to them yesterday and today - this one was recorded and mixed really well, which helps things a lot. The record kind of tapers off a little towards the end with the rather disposable instrumental "Tiny Little Blues" (dobro fans will be pleased by an unexpected appearance from David Bromberg) followed immediately by an eight-minute freakout jam (lyricless but with some spoken word) that closes the proceedings. It is tempting to think they needed to fill ten more minutes and had no more songs left, but Havens often managed to insert something experimental or vaguely improvisatory into his early records. And this intense finale, "Shouldn't All The World Be Dancing" is shot through with Havens ecological, spiritual, and anti-war sentiments. It is a surprisingly dissonant way to close a record, perhaps the musical rendering of his call in the liner notes to see "all the temples built by man... crumble into truth and piles of light." Richie Havens didn't live to see that vision come to fruition here on Spaceship Earth. But he did leave us a huge body of work through his searching.











Listen to a little piece of it today.



















I could post a YouTube clip to something off this album but why not share the original recording of that Lumkins tune: