WWE Raw's Greatest Hits MP3/Flac
WWE Raw's Greatest Hits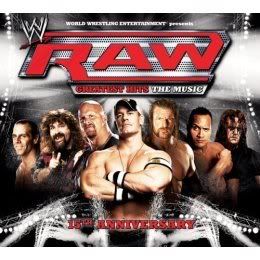 Track Listing:
1. The Time Is Now (John Cena's Theme)
2. I Won't Do What You Tell Me (Stone Cold Steve Austin's Theme)
3. If You Smell (The Rock's Theme)
4. The Game (Triple H's Theme)
5. Sexy Boy (Shawn Michaels' Theme)
6. Rest In Peace (Undertaker's Theme)
7. No Chance In Hell (Mr McMahon's Theme)
8. I Walk Alone (Batista's Theme)
9. Line In The Sand (Evolution's Theme)
10. Break The Walls Down (Chris Jericho's Theme)
11. Wreck (Mick Foley's Theme)
12. Time To Rock & Roll (Trish Stratus' Theme)
13. (619) (Rey Mysterio's Theme)
14. Slow Chemical (Kane's Theme)
15. Are You Ready? (D-Generation X's Theme)
16. Paparazzi (Melina's Theme)
17. Turn Up The Trouble (Ken Kennedy's Theme)
Note Release:
Audio CD Release Date: December 18, 2007
15 Years. 15 Superstars. 15 of the greatest entrance themes in WWE Raw history! Raw's Greatest Hits - The Music features, for the very first time on one complication, 17 of the baddest entrance themes in Raw's history, including 2 never-before-released bonus tracks!

http://rapidshare.com/files/78148674/VA-WWE_Greatest_Hits-The_Music-2007-EON.rar
pw: rawjemboy