Eric Clapton - Live Royal Albert Hall MP3/Flac
Eric Clapton - Live Royal Albert Hall (2015) BDRip 720p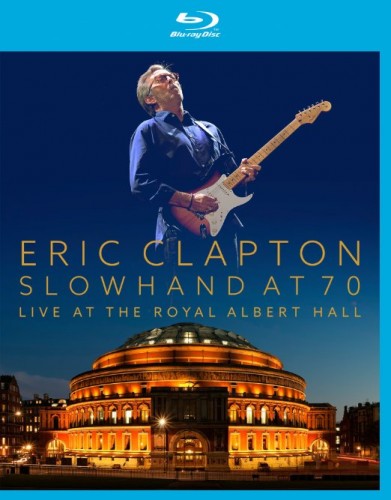 Screenshots:
Setlist:
01. Somebody's Knocking
02. Key to the Highway
03. Tell the Truth
04. Pretending
05. Hoochie Coochie Man
06. You Are So Beautiful" (Featuring Paul Carrack)
07. Can't Find My Way Home" (Featuring Nathan East)
08. I Shot the Sheriff
09. Driftin' Blues
10. Nobody Knows You When You're Down and Out
11. Tears in Heaven
12. Layla
13. Let It Rain
14. Wonderful Tonight
15. Crossroads
16. Cocaine
17. High Time Went (Featuring Paul Carrack · Andy Fairweather Low)
about:
Slowhand at 70 – Live at the Royal Albert Hall is a concert film released by the British pop-rock musician Eric Clapton. It features a selection of songs, Clapton performed on May 21, 2015 while he played during his "70th Birthday Celebration" tour at London's iconic Royal Albert Hall. While on tour in London, Clapton broke the 200th concert mark, making him the act, who has most performed at the British venue. The film was released from September 14, 2015 onwards via cinema broadcasting in various territories. The cinema release also featured an in-depth report about Clapton's history at the Royal Albert Hall. A DVD, Blu-ray, compact disc and grammophone record release of the performance was released on November 13, 2015.
Eric Clapton booked a series of shows at his beloved venue the Royal Albert Hall in May of 2015, choosing to document this stint via a concert film and an accompanying album, both called Slowhand at 70: Live at the Royal Albert Hall. This is not the first live album of Clapton's to be recorded at the Royal Albert Hall -- 1991's 24 Nights documented a near month-long residency at the London hall -- and, generally, this performance does have a familiar feel, thanks in part to the set and in part to Clapton playing with a band who has been with him for a long time. There are a few surprises -- Paul Carrack takes lead on "You Are So Beautiful," played in tribute to then-recently departed Joe Cocker; Andy Fairweather-Low sings the closer, "High Time We Went" -- but this is a lived-in, almost stately affair, relying heavily on blues and Slowhand staples, all taken at a dignified midtempo. Perhaps appropriately, Clapton's performance isn't fiery, but he does dig into these grooves and seems to enjoy being with his old mates, and playing his old tunes in his old haunt. --AllMusic Review by Stephen Thomas Erlewine
Info:
Quality:
BDRip | 720p
Format:
MKV | 4216kbps
Length:
01:46:00 | 5.95Gb
Video:
H.264 | 1280x720 | 16:9 | 23.976fps
Audio 1:
DTS | 1510kbps | 48kHz | 6 channels: Front: L C R, Surround: L R, LFE
Audio 2:
PCM | 1510kbps | 48kHz | 2 channels: L R
Language:
English
Download:


This album(s) is currently available for download only with a Premium account. To get a premium account, click
here
pass: galexandersHD