Album Info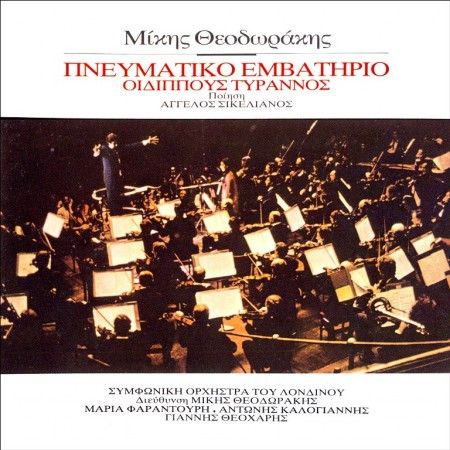 Mikis Theodorakis - Spiritual march & Oedipus Rex (live, 1994)

EAC Rip | FLAC (image & cue & log) & mp3 @ 320 kbps | tracks: 11 | Scans | 46:46 | ~ 253 Mb & 116 Mb

Label: Polygram | 5% recovery record | First release: 1974 | Folk oratorio for voice, chorus and orchestra



Live recording of two Mikis Theodorakis' works for symphonic orchestra, folk and tenor voices and chorus. The poet Angelos Sikelianos wrote "Spiritual march" and Mikis composed a folk oratorio. The London Symphonic Orchestra is conducted by the composer and the voices are Maria Farandouri, Antonis Kaloyiannis and tenor Yiannis Theoharis. With the participation of New Opera Chorus and GWALIA men chorus. The Ode for Symphonic Orchestra "Oedipus Rex (Tyrannos)", inspired from the homonymous Sophocles' tragedy, is recorded in the three last tracks. Enjoy a rare Theodorakis' album.


TRACKLIST
01. When I threw the last torch (San erixa ke to sterno davli) [Maria Farandouri]
02. Giant thoughts (Giganties skepsis) [Antonis Kaloyiannis][/center]

03. And I said, yes I know (Ke ipa to xero ne) [Yiannis Theoharis & chorus]
04. Your fate (Mira ke i mira sou) [Yiannis Theoharis]
05. Come on help to raise the sun (Ompros voithate na sikosoume ton ilio) [Maria Farandouri & chorus]
06. Come on the creators (Ompros i dimiourgi) [Maria Farandouri]
07. The new word is near (Simoni o neos logos) [Antonis Kaloyiannis]
08. So, when I threw the last torch (Etsi, san erixa ke to sterno davli) [Maria Farandouri]
09. Oedipus I
10. Oedipus II
11. Oedipus III
London Symphonic Orchestra, conducted by Mikis Theodorakis







Buy Premium Account and download as fast as you can or you will lose file you need ( File death because of Copyright Infringement )


Download ( Uploaded )


http://uploaded.net/file/wmtjbinf/Mikis.Theodorakis...Spiritual.march...Oedipus.Rex..live..1994.rar


Download ( DizzCloud )


http://dizzcloud.com/dl/165oqdk/Mikis.Theodorakis...Spiritual.march...Oedipus.Rex..live..1994.rar


Download ( Lumfile )


http://lumfile.com/g2fueaocz3hc/Mikis.Theodorakis...Spiritual.march...Oedipus.Rex..live..1994.rar.html






Click my nick to see more my articles







#tags

The album code is : ODI3008023