Flabbergasted Freeform Radio Hour No.3 - April 2013 MP3/Flac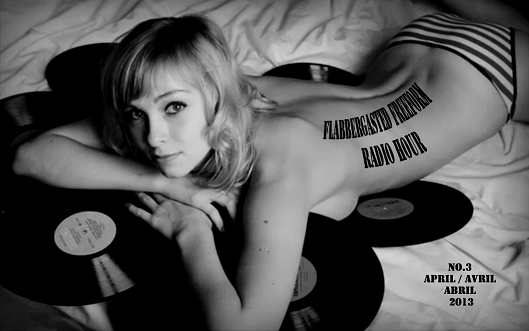 Finally, another episode of the world-famous podcast!
or, for convenient download to your music player of choice
in
320 kbs (1 file set)
MIRROR 1
MIRROR 2
MIRROR 3
--------------------------------------------------------------

in FLAC (1 file set)
MIRROR 1
MIRROR 2
Hope you enjoy this one. I might as well mention, I put my purist audiophile pretensions aside (they are outside my budget anyway) and so should you, podcasts are meant to be listened to `on the go`, driving, running, working, dancing naked in your house or however you like. Created with a fancy German microphone, some nice preamps, but also using compression which is a good tool if you know how to use it. With so many different songs with different production values and aesthetics, it is kind of necessary to do some compression and limiting to make the listening experience less jarring (and less reaching for your volume knob or button). Plus it gives it that little boost of radio faux-excitement that is one of the psychoacoustic benefits of compressing a mix. I may not have a vintage Fairchild compressor to stay with the vibe of this set, but it works. Also if you have a Fairchild compressor you don't need any longer, feel free to send it to me. I will even pay for the shipping!
Check out the other podcasts, if you missed them, where they live
Playlist:
New Birth – Granddaddy
Betty Wright – Clean Up Woman
Carlos Dafe – Bem Querer
Roque da Plá - Cantos Negros
Marines - No laço do carimbô
Mighty Sparrow – Witchdoctor
Vieira e Seu Conjunto – Melô do bode
Ed Lincoln – Miss Balanço
Cal Tjader – Solar Heat
Brother To Brother - Visions
(break)


Azar Lawrence – Forces of Nature
Riot – Just Beyond
Jimmy and Vella – Do You Really Know How I Feel
Soul Children – It Hurts Me To My Heart
Baby Huey – Hard Times
Wolfmoon – People Get Ready
J.B.Carvalho – Jesus Cristo
Sister Rosetta Tharpe – Let It Shine
Tim Maia – Paz


(break)


Roberto Carlos – Ninguem Tirar Voce de Mim
Orchestra Harlow - Lo Que Dice Usted
Baracho e Seus Cirandeiros - Despedida
Background music during the read-backs came from the Gil Melle soundtrack for The Andromeda Strain and a record by Welsh prog band Man called "2 oz of Plastic With A Hole In The Middle"