Western Swing Roots 3 - Jug/ Washboard Bands MP3/Flac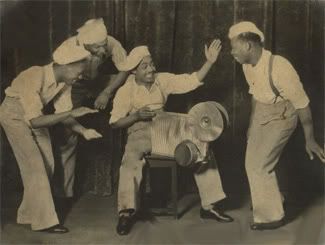 Washboard Rhythm Kings
This is an improved repost of the original posted back in 2008. The download had disappeared for what ever reason and I hadn't created a printed song list back then so I had to put together a new mix of songs. The songs in the download are different from the original post so worth downloading for those of you who got the first set. I also added an addition download of jug/washboard influenced Western Swing bands.
Jug and Washboard music is another sample of rural music that like western Swing was influenced by Jazz and Blues. The tradition of Jug and Washboard bands is that if you can't afford to buy a musical instrument, you make it yer self. The influence of washboard music on Western Swing can be heard in songs like "Call Of The Freaks" also known as "Garbage Man Blues" which was originaly recorded by the Washboard Rhythm Kings then covered by Milton Brown's Musical Brownies, to the instruments themselves. The washboard was used by a few early Western Swing bands like Bob Skyles & His Skyrockets, the Washboard Wonders, the Prairie ramblers, and Texas Jim Lewis.
Here is a sampling of 18 songs with that crazy jug/washboard sound;
1. If I could Be With You (Alabama Washboard Stompers) (2:36)
2. St Louis Blues (Alabama Washboard Stompers) (3:02)
3. Red River Blues (Clarence Williams Washboard 5) (3:09)
4. Sugar Blues (Dallas String Band) (3:09)
5. Shim Shaming (Eddy Kelly's Washboard Band) (3:08)
6. Sadie Green, the Vamp of New Orleans (take 1) (Five Harmaniacs) (2:56)
7. Farewell Blues (Georgia Washboard Stompers) (2:24)
8. I Can't Dance (I Got Ants In My Pants) (Georgia Washboard Stompers) (2:57)
9. Lonesome Blues (Henry Williams & Eddie Anthony) (2:53)
10. Baby Please Don't Go (Joe Williams' Washboard Blues Singers) (3:25)
11. Lonesome Grave Took My Baby (Mississippi Shieks) (3:18)
12. Memphis Blues (Mobile Strugglers) (2:53)
13. Old Joe (Nashville Washboard Band) (2:05)
14. Dinah (Scorpion Washboard Band) (3:06)
15. Boot It Boy (1929) (Tampa Red's Hokum Jug Band) (2:55)
16. It's Tight Like That (Tampa Red's Hokum Jug Band) (2:49)
17. Wipe 'Em Off (The Seven Gallon Jug Band) (2:44)
18. Call of The Freaks (Washboard Rhythm Kings) (3:02)
Download Here
And Here's a mix of Western Swing bands who were obviously influenced by jug/washboard music.
Track Listing
-------------
1. JugRag (Blue Ridge Ramblers) (2:52)
2. Ghost Of The Blues (Bob Skyles & His Skyrockets) (3:01)
3. Whatcha Gonna Do When Your Wife Comes Home (Bob Skyles & His Skyrockets) (2:10)
4. Back Up and Push (Cherokee Ramblers with Bill Gatin & his Jug) (2:49)
5. My Little Girl (Cherokee Ramblers with Bill Gatin & his Jug) (3:01)
6. Coquette (New Dixie Demons) (2:55)
7. Don't Bring Lulu (New Dixie Demons) (2:33)
8. Coney Island Washboard (Swift Jewel Cowboys) (2:51)
9. Fan It (Swift Jewel Cowboys) (2:30)
10. The Washboard Man (Tennessee Ramblers) (2:54)
11. HILL BILLY LIL' (Texas Jim Lewis) (1:48)
12. Willis Rag (Texas Jim Lewis) (1:58)
13. The Music Goes 'Round And Around (The Prairie Ramblers) (2:55)
14. You Look Pretty In An Evening Gown (The Prairie Ramblers) (2:56)
15. CHEATIN' ON ME (Washboard Wonders) (2:19)
16. Sailor's Sweetheart (Washboard Wonders)
Download Here