Stevie Ray Vaughan - CD: Live from Carnegie Hall + DVD: Live from Austin Texas (1984 + 1983 & 89) MP3/Flac
Stevie Ray Vaughan - CD: Live from Carnegie Hall + DVD: Live from Austin Texas (1984 + 1983 & 89)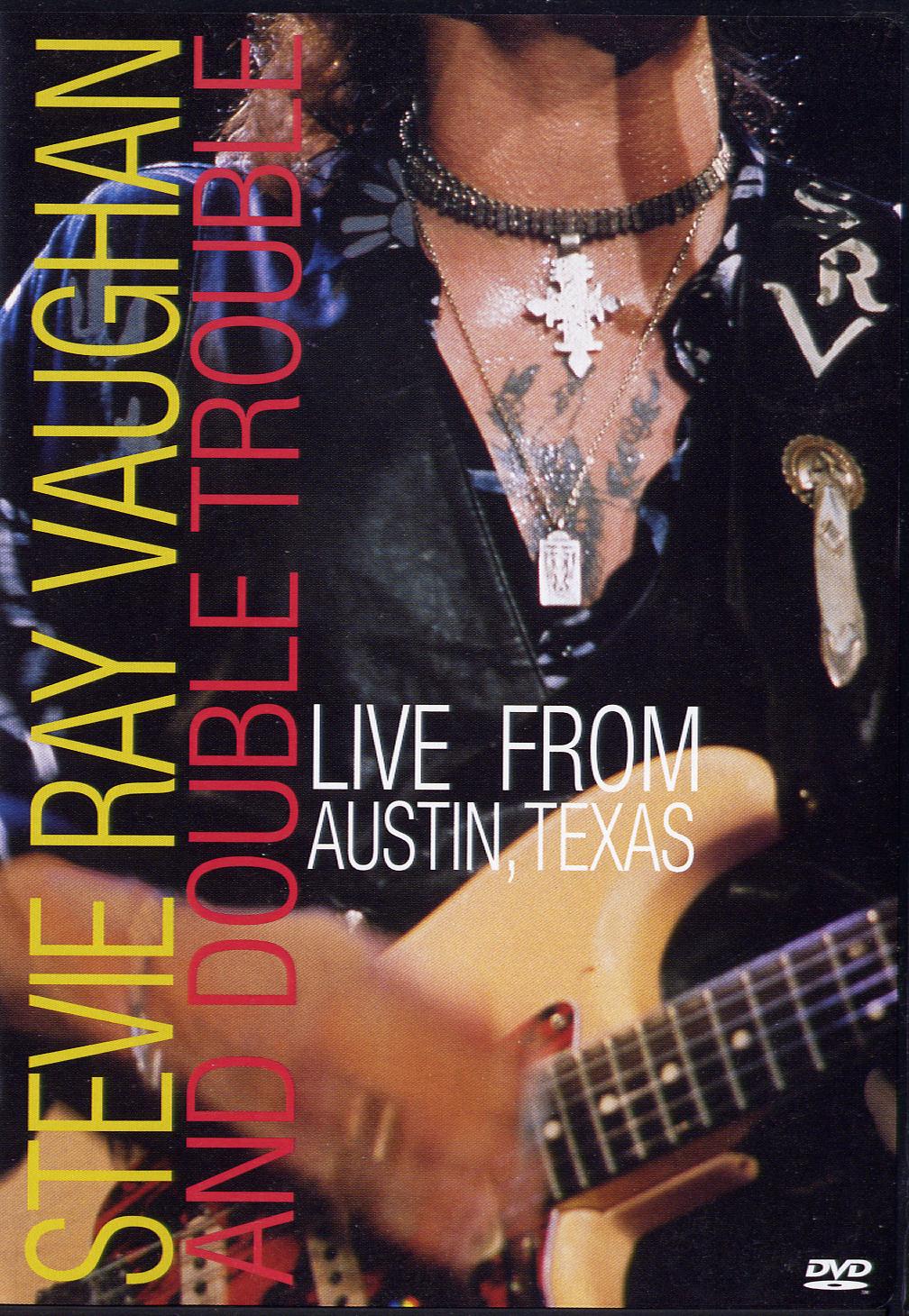 blues | CD: EAC RIP; FLAC + CUE + LOG | DVD Video: DVD5; ISO | Cover | 390MB + 4500MB
MPEG-2 Video, PAL 4:3 (720:576) | LPCM 2.0; DD 5.1 | rel: 2004
"Live At Carnegie Hall" is such an album. Stevie Ray Vaughan and Double Trouble, recorded the day after Vaughan's 30th birthday with the on-stage assistance of Stevie's brother Jimmie Lee Vaughan on second guitar, Dr John on his customary piano, and the Roomful of Blues horn section popping up on several tracks.
The sound is not quite as crystal clear as on the magnificent recording of Stevie Ray Vaughan's 1982 Montreux appearence, but it is more than good enough, and the band tears through some of their best songs, including the irresitable "Pride And Joy", a horn-augumented version of the slow blues "Dirty Pool", a superb, tough rendition of "Honey Bee" with some truly muscular guitar playing from the Vaughan brothers, and an equally great "Cold Shot".
Vaughan relies quite a lot on instrumentals (they make up five of the thirteen numbers), and it would perhaps have been nice to have a couple more vocal performances, especially since Stevie Ray was actually a really fine rock n' roll singer.
But that's a matter of taste, of course, and his instrumentals are catchy and a real showcase for his sublime talents on the guitar.
"Live At Carnegie Hall" also includes a few rare performances, particularly Eddie 'Guitar Slim' Jones' "Letter To My Girlfriend", the instrumental "Iced Over" and Leo Gooden's "C.O.D." (originally recorded by Albert King) which Vaughan never recorded anywhere else.
On "C.O.D." Vaughan is joined by Texas blues singer Angela Strehli (check out her album "Soul Shake").
All in all, "Live At Carnegie Hall" is a very welcome addition to Stevie Ray Vaughan's too short catalogue. And to those who are weary of Vaughan working with a horn section - don't worry, he remains front and center, and his playing and singing is nowhere near overwhelmed by the presence of additional musicians.
The DVD is the combination of the two appearances made by Stevie Ray Vaughan on Austin City Limits, a television show obviously made in Austin, Texas. The first was in 1983 as a slightly unsure, raw talent and the second in 1989 as an assured performer, comfortable with his talent.
CD: Live from Carnegie Hall
1. Intro
2. Scuttle Buttin'
3. Testifyin'
4. Love Struck Baby
5. Honey Bee
6. Cold Shot
7. Letter To My Girlfriend
8. Dirty Poet
9. Pride And Joy
10. Things That I Used To Do
11. COD
12. Iced Over
13. Lenny
14. Rude Mood
DVD: Live from Austin Texas
1. Pride And Joy
2. Texas Flood
3. Voodoo Chile
4. House Is Rockin'
5. Tightrope
6. Leave My Girl Alone
7. Cold Shot
8. Crossfire
9. Rivera Paradise
10. Tick Tock
11. Little Wing
http://www.odi-music.net/file/55590177/SRV84lach_dvd5-lfa.part01.rar
http://www.odi-music.net/file/55590179/SRV84lach_dvd5-lfa.part02.rar
http://www.odi-music.net/file/55590181/SRV84lach_dvd5-lfa.part03.rar
http://www.odi-music.net/file/55590183/SRV84lach_dvd5-lfa.part04.rar
http://www.odi-music.net/file/55590185/SRV84lach_dvd5-lfa.part05.rar
http://www.odi-music.net/file/55590187/SRV84lach_dvd5-lfa.part06.rar
http://www.odi-music.net/file/55590189/SRV84lach_dvd5-lfa.part07.rar
http://www.odi-music.net/file/55590191/SRV84lach_dvd5-lfa.part08.rar
http://www.odi-music.net/file/55590193/SRV84lach_dvd5-lfa.part09.rar
http://www.odi-music.net/file/55590195/SRV84lach_dvd5-lfa.part10.rar
http://www.odi-music.net/file/55590197/SRV84lach_dvd5-lfa.part11.rar
http://www.odi-music.net/file/55590199/SRV84lach_dvd5-lfa.part12.rar
http://www.odi-music.net/file/55590201/SRV84lach_dvd5-lfa.part13.rar
http://www.odi-music.net/file/55590203/SRV84lach_dvd5-lfa.part14.rar
http://www.odi-music.net/file/55590205/SRV84lach_dvd5-lfa.part15.rar
http://www.odi-music.net/file/55590207/SRV84lach_dvd5-lfa.part16.rar
http://www.odi-music.net/file/55590209/SRV84lach_dvd5-lfa.part17.rar
http://www.odi-music.net/file/55590211/SRV84lach_dvd5-lfa.part18.rar
http://www.odi-music.net/file/55590213/SRV84lach_dvd5-lfa.part19.rar
http://www.odi-music.net/file/55590215/SRV84lach_dvd5-lfa.part20.rar
http://www.odi-music.net/file/55590217/SRV84lach_dvd5-lfa.part21.rar
http://www.odi-music.net/file/55590219/SRV84lach_dvd5-lfa.part22.rar
http://www.odi-music.net/file/55590221/SRV84lach_dvd5-lfa.part23.rar
http://www.odi-music.net/file/55590223/SRV84lach_dvd5-lfa.part24.rar
http://www.odi-music.net/file/55590225/SRV84lach_dvd5-lfa.part25.rar
http://www.odi-music.net/file/55590227/SRV84lach_dvd5-lfa.part26.rar
http://www.odi-music.net/file/55590229/SRV84lach_dvd5-lfa.part27.rar
http://www.odi-music.net/file/55590231/SRV84lach_dvd5-lfa.part28.rar
http://www.odi-music.net/file/55590233/SRV84lach_dvd5-lfa.part29.rar
http://www.odi-music.net/file/55590235/SRV84lach_dvd5-lfa.part30.rar
http://www.odi-music.net/file/55590237/SRV84lach_dvd5-lfa.part31.rar
http://www.odi-music.net/file/55590239/SRV84lach_dvd5-lfa.part32.rar
http://www.odi-music.net/file/55590241/SRV84lach_dvd5-lfa.part33.rar
http://www.odi-music.net/file/55590243/SRV84lach_dvd5-lfa.part34.rar
http://www.odi-music.net/file/55590245/SRV84lach_dvd5-lfa.part35.rar
http://www.odi-music.net/file/55590247/SRV84lach_dvd5-lfa.part36.rar
http://www.odi-music.net/file/55590249/SRV84lach_dvd5-lfa.part37.rar
http://www.odi-music.net/file/55590251/SRV84lach_dvd5-lfa.part38.rar
http://www.odi-music.net/file/55590253/SRV84lach_dvd5-lfa.part39.rar
http://www.odi-music.net/file/55590255/SRV84lach_dvd5-lfa.part40.rar
http://www.odi-music.net/file/55590257/SRV84lach_dvd5-lfa.part41.rar
http://www.odi-music.net/file/55590259/SRV84lach_dvd5-lfa.part42.rar
http://www.odi-music.net/file/55590261/SRV84lach_dvd5-lfa.part43.rar
http://www.odi-music.net/file/55590263/SRV84lach_dvd5-lfa.part44.rar
http://www.odi-music.net/file/55590265/SRV84lach_dvd5-lfa.part45.rar
http://www.odi-music.net/file/55590267/SRV84lach_dvd5-lfa.part46.rar
http://www.odi-music.net/file/55590269/SRV84lach_dvd5-lfa.part47.rar
http://www.odi-music.net/file/55590271/SRV84lach_dvd5-lfa.part48.rar
http://www.odi-music.net/file/55590273/SRV84lach_dvd5-lfa.part49.rar
pass: asd