Tom Dickey Show Boys MP3/Flac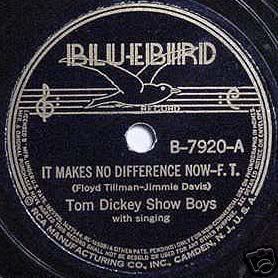 Sample Song - Thank You Mr. Moon
Shortly after leaving the Tune Wranglers in 1937 fiddle player Tom Dickey formed the Tom Dickey Show Boys. He enlisted Adolph Hofner as singer/guitarist who had recorded earlier in 1936 with Jimmie Revard and His Oklahoma Playboys and who later started his own band Adolph Hofner and His Texans. Sadly these are the only 8 sides they recorded.
October 27,1938; Blue Bonnet Hotel, San Antonio, Texas.
Tom Dickey, fiddle; Bill Dickey, bass/vocal; Bert Ferguson, piano; Adolph Hofner,
guitar/vocal; Emil "Bash" Hofner, steel guitar/guitar.
It Makes No Difference Now
She's Got Everything At Her Command
That's All I Want To Know
Download Here