The Farr Brothers - South In My Soul LP MP3/Flac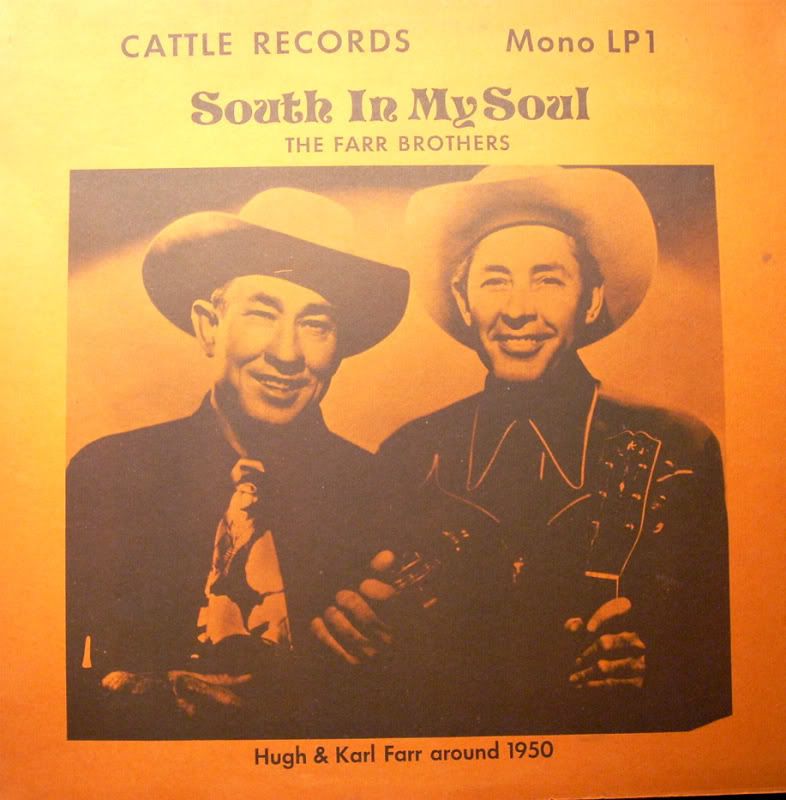 Sample Song - South In My Soul"
Here's another out-of-print LP post. This one is "South In My Soul" by the Far Brothers, Cattle Mono LP1 "rare". All the songs were recorded between 1934 - 1940.
-cover text-
Texas born Hugh and Karl Farr began their respective careers at an early age. Hugh took up the Fiddle when he was nine, and Karl learned the banjo at the age of eleven, in the mid-thirties, both joined the legendary singing group, the Sons of the Pioneers. Hugh remained with them until 1958; Karl was appearing on stage in concert with the Pioneers at the time of his death in 1961. From the mid-thirties to the late-forties, the Farr Brothers were trend setters — Hugh on the fiddle. Karl on the guitar. Hugh's fiddling has many of the earmarks or his native Texas fiddle style, but with noticeable overtones of the hot jazz fiddle popularized in the '30s by Joe Venuti, Stephane Grappelly. Emilio Ca'ceres. and others. Hugh, who still entertains and attracts large crowds, Is greatly admired and respected for his smooth bowing style. Karl's guitar styling, fresh and unique in the '30s and '40s. influenced many of the guitarists ot his era. Unlike the usual closed chord rhythm of the Texas style. Karl emphasized single-note runs, more in the southeastern backup tradition.The recordings contained in this album are taken from the Standard and Orthacoustic transcriptions of the Sons of the Pioneers- Also included are the swing-jazzy duel recordings made in the mid-thirties by the Farr Brothers for Standard, under the label "The Corn Huskers"The Fan Brothers are deserving of far greater honor than can be expressed in these few liner notes. Their many fans and admirers will be pleased with the content of this fine album.
Ken Griffis
North Hollywood, California
Director of the John Edwards Memorial Foundation, Inc.
Track Listing
-------------
1. Cow Across The Road (Farr Bothers) (1:16)
2. South In My Soul (Farr Bothers) (2:06)
3. Blues In E (Farr Bothers) (1:06)
4. Jack Of Diamonds (Farr Bothers) (1:53)
5. Gambler's Blues (Farr Bothers) (2:11)
6. Boggy Road To Texas (Farr Bothers) (1:40)
7. Over The Santa Fe Trail (Farr Bothers) (2:45)
8. Long, Long Ago (Farr Bothers) (1:47)
9. A Rag (Farr Bothers) (2:01)
10. Fire Alarm Blues (Farr Bothers) (1:29)
11. Tom And Jerry (Farr Bothers) (1:42)
12. Kelly Waltz (Farr Bothers) (2:13)
13. Spanish Cavalier (Farr Bothers) (3:08)
14. Indian Scout (Farr Bothers) (2:42)
15. Riddle Rhythm (Farr Bothers) (2:38)
16. Churnin' Butter (Farr Bothers) (2:04)
17. The Outlaw (Farr Bothers) (2:04)
18. Carlen Stomp (Farr Bothers) (1:36)
19. Cagen Stomp (Farr Bothers) (2:07)
20. Darkness On The Delta (Farr Bothers) (2:37)
21. Limehouse Blues (Farr Bothers) (2:17)
Download Here