Maddox Brothers & Rose (Wrangler LP WR 1003) MP3/Flac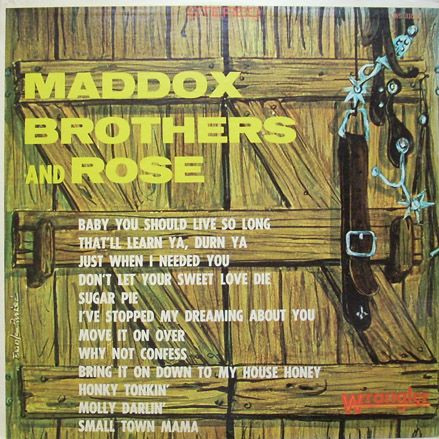 Sample Song - "Honky Tonkin'"
I've had lots of requests for the Maddox Brothers & Rose. They are truly one of a kind. Enjoy
From the back cover:
The name Rose Maddox is by now synonymous with what Country and Western music is all about. A natural entertainer, "the one Rose" as she has come to be known among her colleagues and fans, is one of today's leading C&W artists. Her authentically "down home", often raucous style, her indefatigable swing, her open wit and good humor, have made her a constant favorite at jamborees and concerts all over the country.
Born in Alabama, Rose left there for California with her family when, in her own words, she was "just a little bitty girl." That trip was made on a freight car, but times have since changed. "I've done a lot of traveling over some of those same roads, but now it's always First Class."
Probably it is safe to say that Rose Maddox's following is unequaled among contemporary Country singers. Though for a long while she worked and traveled with her brothers (the outstanding group which accompanies her in this album) she has, in recent years, preferred to work as a single and her sparkling talent has graced innumerable jamborees, rodeos, fairs, ballrooms and nightclubs.
Rose has purchased a ranch in Oregon and she hopes to raise cattle there. But, as her husband has pointed out, if the people keep making hits out of her records the way they have been, there'll hardly be time for her to go and buy a Bull to get things started.
SIDE A
BABY YOU SHOULD LIVE SO LONG
THAT'LL LEARN YA. DURN YA
JUST WHEN I NEEDED YOU
DONT LET YOUR SWEET LOVE DIE
SUGAR PIE
I'VE STOPPED MY DREAMING ABOUT YOU
SIDE B
MOVE IT ON OVER
WHY NOT CONFESS
BRING IT ON DOWN TO MY HOUSE HONEY
HONKY TONKIN'
MOLLY DARLIN'
SMALL TOWN MAMA
Download Here